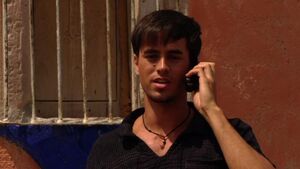 Lorenzo is a professional mariachi who works at a "mariachi joint" (as opposed to a strip joint), and is a good friend of El Mariachi, and also partner of Fideo.
His weapon is a guitar case that is actually a flamethrower.
He is very greedy and cocky. In fact, he is quite full of himself, and his main interest is money. Even at a banquet, he doesn't care that it is an honor to play for El Presidente, he's just pissed off about not being payed a lot.
He later helps El Presidente escape along with Fideo, and they are both rewarded and go their separate ways.